Reader question:
Please explain this sentence, particularly "hot hand of a basketball player": She had the "hot hand" of a basketball player "who couldn't miss."

My comments:
She, whoever it is, has just had a string of success doing something and having "the hot hand of a basketball player" is how she explains it.
It's like saying, whatever she did she was successful, as if she were a basketball player who just cannot miss no matter how they shoot the ball and no matter where on the court they shoot the ball from.
In basketball and in other sports, the "hot hand" refers to the situation in which a player seemingly has, so to speak, the Midas touch.
Midas touch, of course, refers to the legend of King Midas who briefly has the power to turn anything and everything he touches into gold.
In our discussion, the player who has the hot hand of a basketball player seems to have that kind of power, the power that allows them to succeed in everything and in every way.
If you've played the game of poker you probably will have experienced this phenomenon: For an hour or so, you seem to get all the good cards and seem to always play your cards right - and win. That's when you have got the hot hand. You're on fire, as they say. You can do no wrong.
On the other hand, if you've played a lot of poker or mahjong but never experienced the hot hand, well, poor you.
Hard luck, but instead of ruing your hard luck, however, please rest assured that those who do have the hot hand have it only temporarily. It does not last. I never lasts.
Anyway, I hope this is sufficient consolation.
Soon enough, you see, they all will have cold spells such as you seem to be having all the time.
Again, poor you.
Enough condolences. Here are media examples of "hot hand":

1. Ben McAdoo has shown a willingness to gamble in his first season as the Giants coach, and New York is riding his hot hand for a run at their first postseason berth since winning the Super Bowl in 2011.
Eli Manning threw his third touchdown pass of the game on a fourth-down, fourth-quarter roll of the dice by McAdoo, and the Giants beat the Cincinnati Bengals 21-20 on Monday night for their first four-game winning streak since 2013.
"We like the position we're in. We've just got to keep going. We can't slow down," said Manning, who was 28 of 44 for 240 yards and two interceptions. "We can't relax for a second. Every game we've been playing is tight. I'm proud of the way the team is fighting.
Manning threw scoring passes of 10 yards apiece to rookie Jerrell Adams and Odell Beckham in the first half, and a game-winning 3-yarder to rookie Sterling Shepard on a daring call with New York (6-3) down 20-14 early in the fourth quarter.
- Manning throws 3 TDs as gambling Giants beat Bengals, AP, November 15, 2016.

2. Sorry Warriors' fans, there will be no 16-0. Put the champagne on ice for at least three more days as the Cleveland Cavaliers were able to hold off the Golden State Warriors to force a Game 5.
LeBron James was unstoppable again, getting an NBA Finals' record ninth triple-double, surpassing Magic Johnson. The King finished the game with 31 points, 10 rebounds and 11 assists and he continues on his miraculous playoff run. Yet, he isn't even the biggest talking point for the night. Kyrie Irving was unstoppable again and the Cavaliers were riding his hot hand all night. Cleveland put up a fantastic offensive performance, one of the best we've seen in NBA Finals' history. They were flawless from 3-point range, making the extra pass to find the open shooter and setting an NBA Finals record for most made 3s in a game.
On the other bench, Kevin Durant was spectacular again in search of his first ever NBA Championship. His teammates, on the other hand, didn't look too interested from the start. The Warriors gave up 49 points…in the first quarter and it set the tone for the rest of the way. Durant finished the game with 35 points, four rebounds and four assists, but didn't have a great shooting night. Stephen Curry has been great so far in the finals, but showed shades of the last two NBA Finals tonight. He had 14 points on 4-for-13 shooting and was a Warriors' worst minus-25.
- Cavaliers hold off the Warriors to force a Game 5, Fansided.com, June 10, 2017.

3. It's Friday. We've had a big run in the market. Weekends have been a crapshoot, and we're seeing consistent selling this morning. It's a good time to take our foot off the gas in the constant chase for a trade, and discuss something I want you to avoid while reading me as of late or any trader that's out there.
Although I haven't put out a ton of earnings plays this season, but with seven pre-earnings and two-post earnings trades, only one name emerged a loser. Granted, if execution or timing varied on an entry or exit, it is possible one of the eight winners wound up being nothing to write home about, but overall this has been the best earnings season for me ever. Two-plus decades of trading around earnings, so that's saying something. Throw in a fun, luckily timed Tesla (TSLA) skip-strike put butterfly and you have the makings of a decent run over the past few weeks.
Does that mean you should toss aside everything else and consider my thoughts more now than ever before?
No. Heck no!
Do not fall into the trap of the hot-hand fallacy.
We hear about this a lot in sports. Give the ball to the guy with the hot hand. This describes the cognitive belief that a person experiencing a successful outcome will have a greater chance of success in the future. Their winning streak will continue.
It's simply not true. While confidence is a huge driving factor in trading and can help make you better, it will be by a few basis points, small amounts. The market has the great equalizer to the hot-hand, and it's called reversion to the mean.
When you hear a phrase like "best year ever," "best run ever," "this has never happened to me before," or something along those lines, understand it is most likely an outlier. The opposite is true as well with losing streaks and worst runs.
I know my streak is going to come to an end, likely a crashing halt, and that will put me closer to historical averages in terms of success vs. failure, profit vs. loss, and excitement/happiness vs. annoyance/disgust.
I realize it may be odd to slap a big red sign flashing the word WARNING on your forehead, but it's also reality. You never want to tell people to consider fading you, but I figure if it increases your odds of success, then at least it offers some benefits.
At some point in the near future, I will fall victim to the will of the market, its sirens call of reversion to the mean. I know it. You should know it too. After all, if you can't become self-aware as a trader, you'll likely be short for the trading world.
- Do Not Fall Into the Trap of the Hot-Hand Fallacy, by Timothy Collins, RealMoney.com, February 7, 2020.
本文仅代表作者本人观点,与本网立场无关。欢迎大家讨论学术问题,尊重他人,禁止人身攻击和发布一切违反国家现行法律法规的内容。
About the author: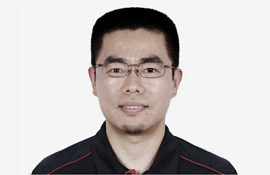 Zhang Xin is Trainer at chinadaily.com.cn. He has been with China Daily since 1988, when he graduated from Beijing Foreign Studies University. Write him at: zhangxin@chinadaily.com.cn, or raise a question for potential use in a future column.
(作者:张欣 编辑:丹妮)