Reader question:
Please explain this headline, "social distancing" in particular: Scientists urge government to enforce social distancing now.

My comments:
Social distancing, literally, means you should keep your distance when you're out socializing, i.e. stay far away from each other when you're in the company of other people or when you're in society at large.
Scientists urging social distancing comes, of course, in light of the raging coronavirus that is wrecking havoc in many countries right now.
Coronavirus is a flu that is deadly and highly contagious. Highly contagious means the disease easily passes on from one person to another.
For example, when anyone comes into close contact with an infected person, someone who carries the virus.
You're in close contact if, for instance, you live together in the same room with someone, as you do with your family or roommates in school.
Or if you shake hands with someone with the disease.
Or if someone coughs while talking to you face to face.
To contain the spread of the virus, authorities may advise you to stop shaking hands and to wear facial masks. If the case is serious, authorities may close schools altogether - as well as shutter grocery stores, cancel sports meets and stop people from going to the movies.
In other words, avoid any crowding activity or event.
Needless to say, under social distancing, your camaraderie with other people is going to take a hit. You're not allowed to meet for dinner or sports or the movies for the time being.
Well, in light of the raging coronavirus, this is a sacrifice that's worth taking. After all, this is a matter of life and death.
All right, here are "social distancing" in a sentence, via recent media examples:

1. A HANDFUL of patients who contracted coronavirus died within a matter of hours - after showing NO symptoms, it's been reported.
Staff at a nursing home in Washington State - which has been at the centre of a deadly outbreak - warned that Covid-19 was "volatile and unpredictable".
The Life Care Center, in Kirkland, Washington, said that 15 of its patients had died of the new coronavirus.
Some of the victims had gone from "no symptoms to death in just a matter of a few hours", staff warned.
Tim Killian, a spokesman for the care home, told the New York Times: "It was surprising and shocking to us that we have seen that level of escalation from symptoms to death."
He said that six other residents were ill and the rest were in the process of being tested.
Three workers were in hospital - one of them had been confirmed as having the virus.
Meanwhile, 70 of the care homes' 180 members of staff were also sick - but there weren't enough test kits for them, Mr Killian added.
...
Anthony Fauci, director of the National Institute of Allergy and Infectious Diseases, told Fox News: "Don't go to crowded places, think twice before a long plane trip, and for goodness sake don't go on any cruises.
"Don't wait for community spread. Now is the time to do social distancing, whether there is spread in your community or not."
- Fears as 15 coronavirus patients 'die in a matter of hours' in US – after showing NO symptoms, TheSun.co.uk, March 11, 2020.

2. Post Malone had a concert in Denver last night. Despite the coronavirus pandemic gripping the country, Pepsi Center still opened its doors, permitted by the local government. So fans still flooded through — at least 10,000 bodies (probably more) bumping and interacting and intermingling into the night.
Video of the full house stunned many online, including Warriors coach Steve Kerr, who retweeted it and attached a public service announcement.
"It's going to take all of us to commit to social distancing in order to turn the tide and get the virus under control," Kerr wrote. "Please explain this concept to everyone you know."
Kerr understands how this looks to the most cynical of his detractors. Hypocritical, he'd guess. His league and his franchise spent the last couple of weeks hosting a homestand in San Francisco, as the virus was aggressively spreading in the region. Three times in six nights they loaded up Chase Center with thousands of strangers, risking a more rapid spread and the ramifications attached to that. He was an unknowing but obedient employee in the process.
"I'm well aware that four days ago I was coaching an NBA game in front of 15,000 fans and now I'm pleading with people to avoid gathering in mass crowds," Kerr said in a phone interview. "It's not that I'm being hypocritical, it's that I was ignorant four days ago and I'm trying to learn like everyone else. I'm trying to use my voice to help spread the word because that's what it's going to take. Everyone has to understand that every individual can play a role in this and that's the only way it's going to work to shift the momentum of what we're facing."
- Steve Kerr's message: Commit to social distancing during this pandemic, TheAthletic.com, March 13, 2020.

3. As the coronavirus spreads into more and more communities, public health officials are placing responsibility on individuals to help slow the pandemic. Social distancing is the way to do it. Geriatrician Thomas Perls explains how this crucial tool works.
What is social distancing?
Social distancing is a tool public health officials recommend to slow the spread of a disease that is being passed from person to person. Simply put, it means that people stay far enough away from each other so that the coronavirus – or any pathogen – cannot spread from one person to another.
The Centers for Disease Control and Prevention describes social distancing as staying away from mass gatherings and keeping a distance of 6 feet or 2 meters – about one body length – away from other people. In New York City, for example, theaters have closed temporarily, many conventions around the world are being canceled and schools are closing all across the U.S. I've stopped taking the train during rush hour. Now I either work from home or drive in with my wife, or I take the train during off-hours so I can maintain the 6-foot distance.
Social distancing also means not touching other people, and that includes handshakes. Physical touch is the most likely way a person will catch the coronavirus and the easiest way to spread it. Remember, keep that 6-foot distance and don't touch.
Social distancing can never prevent 100% of transmissions, but by following these simple rules, individuals can play a critical role in slowing the spread of the coronavirus. If the number of cases isn't kept below what the health care system can handle at any one time – called flattening the curve – hospitals could become overwhelmed, leading to unnecessary deaths and suffering.
Flattening the curve is another way of saying slowing the spread.
- Social distancing: What it is and why it's the best tool we have to fight the coronavirus, ChicagoTribune.com, March 15, 2020.
本文仅代表作者本人观点,与本网立场无关。欢迎大家讨论学术问题,尊重他人,禁止人身攻击和发布一切违反国家现行法律法规的内容。
About the author: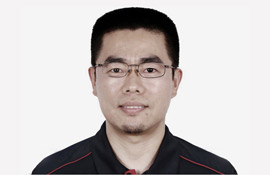 Zhang Xin is Trainer at chinadaily.com.cn. He has been with China Daily since 1988, when he graduated from Beijing Foreign Studies University. Write him at: zhangxin@chinadaily.com.cn, or raise a question for potential use in a future column.
(作者:张欣 编辑:丹妮)