为正常播放该音频,请使用IE9及以上版本IE浏览器或其它浏览器。
>Apple shuts stores worldwide
苹果关闭中国以外门店
Apple will close all its stores worldwide except those in China until March 27 in response to the spread of coronavirus, said Apple CEO Tim Cook.
苹果首席执行官蒂姆·库克表示,苹果将关闭全球范围内除中国以外的所有门店以应对新冠肺炎的蔓延,时间持续至3月27日。
"Apple will be temporarily closing all stores outside of Greater China until March 27 and committing $15 million to help with worldwide recovery," Cook tweeted on Saturday.
14日,库克发布推文称:"苹果将暂时关闭大中华地区以外的所有门店,时间持续至3月27日。苹果还承诺捐赠1500万美元,帮助全球复苏。"
According to his statement, the company is moving to flexible work arrangements in all of its offices worldwide except China, adding that its online stores will remain open.
根据库克的公告,苹果公司将安排中国以外的所有办公室采取灵活办公制,苹果的在线店铺将继续营业。
Apple reopened all 42 of its branded stores in China on Friday as the infection rates have dramatically declined in the country.
由于中国的新冠肺炎感染率大幅下降,苹果13日重新开放其在华所有的42家品牌店。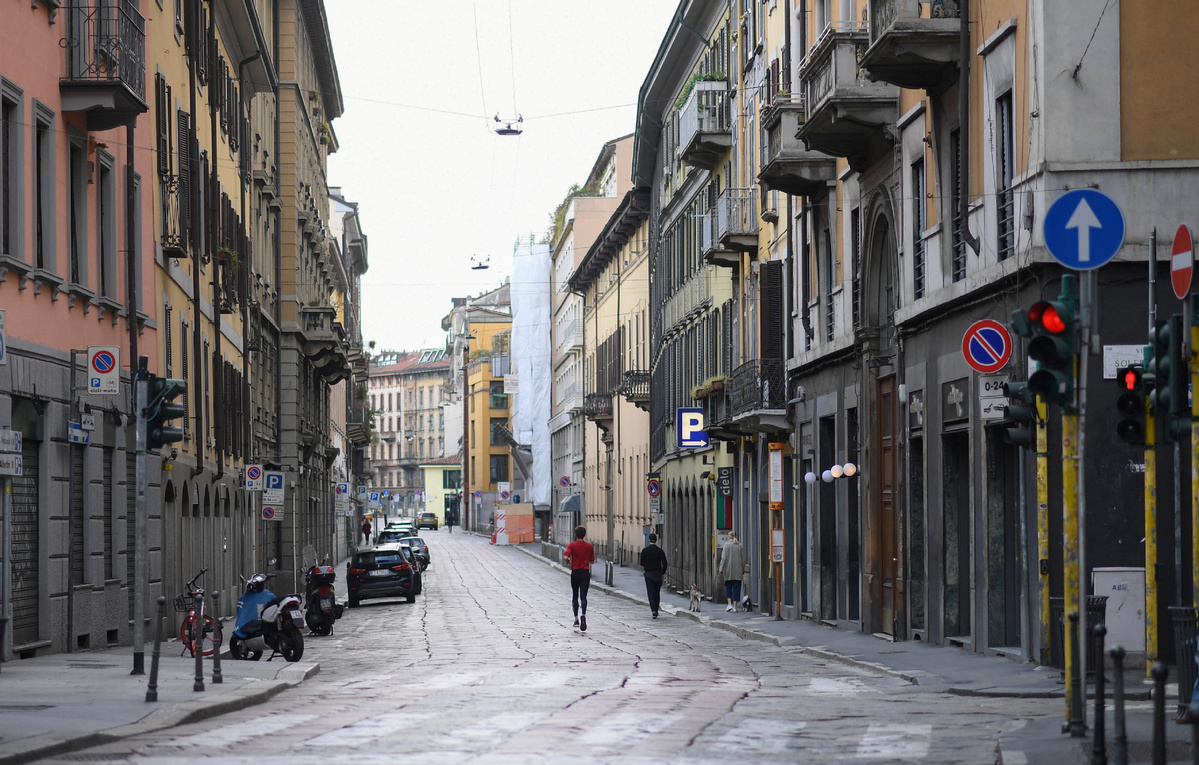 >Europe new point of pandemic
欧洲成全球疫情重灾区
The World Health Organization said on Friday that Europe has become the epicenter of the COVID-19 pandemic, as more cases are being reported on the continent every day than were reported in China at the height of its epidemic.
世界卫生组织13日说,欧洲已成为新冠肺炎大流行的"震中",其每天报告的病例比中国疫情流行高峰时还要多。
Following Italy, Spain on Saturday announced a near-total nationwide lockdown, that starting on Monday bans people from leaving home except to go to work, get medical care or buy food.
继意大利后,西班牙14日宣布将全国几乎完全封锁,从16日起,除工作、就医或采购食物外,全国范围内的民众禁止走出家门。
The Spanish Prime Minister's Office confirmed late on Saturday night that Begona Gomez, the wife of Prime Minister Pedro Sanchez, has tested positive for the coronavirus.
西班牙首相办公室14日晚证实,首相桑切斯的妻子贝戈尼娅新冠病毒检测呈阳性。
France drastically stepped up its measures against the spread of the coronavirus on Saturday, ordering the closure of all cafes, restaurants and cinemas.
14日,法国也大力加强了应对新冠病毒蔓延的措施,下令关闭所有咖啡馆、餐厅和电影院。
The UK is close to telling residents aged 70 and older to stay indoors, likely for an extended period of up to four months.
英国准备要求年龄在70岁及以上的老人居家隔离,隔离期可能会持续四个月之久。
>Fed cuts rate to nearly zero
美联储紧急降息至近零
The US Federal Reserve (Fed) cut interest rates to near zero on Sunday in another emergency move to help shore up the US economy amid the rapidly escalating coronavirus pandemic.
美国联邦储备委员会(美联储)15日再度紧急降息,从而在新冠肺炎大流行快速蔓延之际,为美国经济提供支撑。
For the second time since the financial crisis of 2008, the Fed cut rates at an emergency meeting, aiming for a target range of 0% to 0.25% to help put a floor under a rapidly disintegrating global economy.
这是自2008年金融危机以来,美联储第二次在紧急会议上降低利率,将其调降至0-0.25%的目标区间,以帮助正在迅速瓦解的全球经济筑底。
The Fed decision came as part of a broad package of measures that seeks to cushion the blow from the Covid-19 outbreak.
这一决定是美联储一整套组合措施的一部分,这些措施的目的是缓解新冠肺炎疫情造成的冲击。
"The Federal Reserve is prepared to use its full range of tools to support the flow of credit to households and businesses and thereby promote its maximum employment and price stability goals," the central bank said.
美联储表示,该机构准备动用其全套工具来支持面向家庭和企业的信贷流动,从而推动实现其就业最大化和物价稳定的目标。
The Fed also said that it will increase its holdings of Treasury securities by at least $500 billion and its holdings of agency mortgage-backed securities by at least $200 billion over coming months.
美联储还表示,未来几个月还将增持至少5000亿美元美国国债和至少2000亿美元的"机构抵押贷款支持证券"。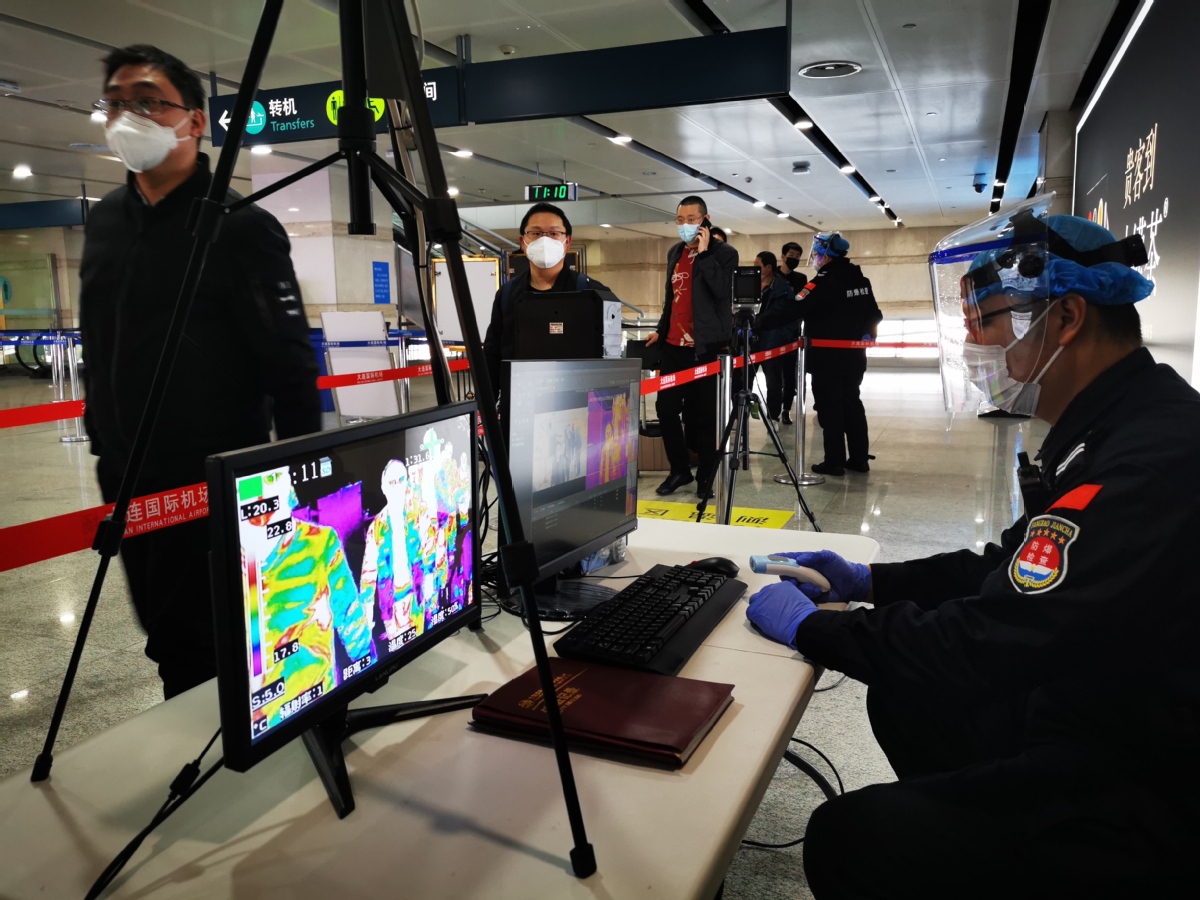 >Steps to curb imported cases
入境进京集中观察14天
Starting Monday, all passengers arriving at Beijing from overseas will be put on 14-day quarantine at designated facilities equipped with healthcare services, Chen Bei, deputy secretary-general of the Beijing municipal government, said at a news conference on Sunday. Expenses incurred will be paid by travelers themselves, she added.
北京市人民政府副秘书长陈蓓在15日的一场新闻发布会上表示,从16日起,所有入境进京人员将被转送至配置有专业医护的集中观察点进行14天集中观察,费用自理。
"Imported cases have become the majority of the city's newly confirmed cases," she said.
据陈蓓介绍,境外输入病例已经成为本市新增确诊病例的主体。
Inbound travelers who were found to be infected or suspected of having COVID-19 during their trips to Beijing from overseas will bear their own medical costs if they are not covered by China's health insurance policies, Chen said.
陈蓓表示,未参加基本医疗保险的人员,在入境进京过程中被确诊为新冠肺炎病例或疑似病例的,所发生的医疗费用,由患者个人负担。
Find more audio news on the China Daily app.